Course details
【Luxuriously gorgeous!】 All 16 items · 2H drinking with luxury banquet course 4000 yen ★ Meat flower festival · ripe with domestic beef ♪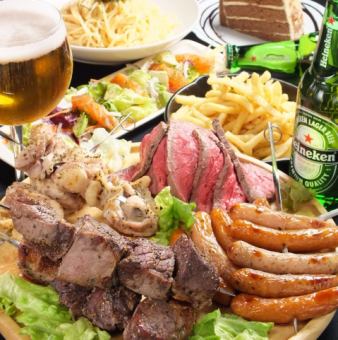 4000 yen
All you can drink / tax included
All-you-can-drink available

120 minutes All you can drink L. O 90 minutes
Available days for reservation

Monday - Sunday - Public holidays - Holidays
Buffet course ☆ Farewell reception party · Forget annual party · Party inside fellow, ◎ at wedding ceremony ◎
Course menu
Assorted daily appetizers 5 varieties
· Awaji chicken tataki carpaccio
· Raw ham (Proshute)
· Homemade smoked cheese
· Fresh! Seasonal Vegetable Stick & Bagna Cowdery Sauce
· Italian salami
· Boronian sausage
· Pepper Beer Sausage
· Homemade potato salad
· Pakuti smell! Attention Salsa's Bruschetta
· Ethnic style · chicken's honeysuckle
· Freshly boiled egg flavored with curry flavor
· Tuna and fresh celery olive canapé
☆ We are preparing seasonal dishes
Choose from five of our staff carefully selected from among the above!
If you have difficulties food, allergies, etc., we will receive it at the time of reservation requested field or by telephone!
◆ Bull's Canapée
... Canapé with plenty of that bullsan cheese ♪
◆ homemade smoked duck roast
I smoked the duck meat.
Domestically ripened roast beef
... matured beef umami ingredients UP !!
◆ Caesar salad with shakiyaki vegetables
... It's a salad with plenty of fresh vegetables ♪
◆ heaped potato fly
◆ Impact large! Steak, spareribs, 3 types of BBQ chicken meat
☆ California Angus Steak
☆ Spare ribs of Miami pork
☆ BBQ chicken
◆ Homemade creamy sauce and raw ham's raw carbonara
... The compatibility of rich rich ham with carbonara sauce is outstanding!
◆ Herb fragrant Margherita pizza
... Pizza baked in homemade kiln is excellent!
◆ Seasonal original sweets
... The refreshing ★
· For anniversaries · birthday, please feel free to consult us as you can write a message on the protagonist's dessert plate ♪
All-you-can-drink menu
·beer
· Budweiser / 【Biestel】 Shandyagaf / Campalribia / Pinebia / Grapevia / Orange Via / Red Eye / Bia Coke
·sour
· Lemon / lime / orange / grapefruit / pine
· Shochu
· Potato swallowing / wheat cherry blossoms Rosan
·Cocktail
· Cassis × Orange · Pine · Milk · Soda · Grape · Oolong · Tonic · Ginja · Cola / Fazy Neck / Peach × Tree Fiz · Pine · Soda · Milk · Tonic · Ginja · Cola / Reggae Punch / Midori × Orange · Pine · Grape · Soda · Tonic · Ginja
·Cocktail
· Yogurito × Orange · Pine · Grape · Milk · Soda / Mango × Orange · Pine · Grape · Milk · Soda · Tonic · Ginja · Cola / Guava × Orange · Pine · Grape · Soda · Cork · Ginja · Tonic / Passion × Orange · Pine · Grape · Soda · Tonic · Cola
·Cocktail
· Litchi × Orange · Pine · Grape · Soda · Tonic · Ginja · Cola / Campari × Orange · Pine · Grape · Soda · Tonic · Ginja · Cola / Kaluamoka × Milk · Soda · Oolong · Orange · Berry · Rickey
·Cocktail
· Banana × Orange · Pine · Grape · Milk · Soda · Tonic · Ginja · Cola / Grape × Orange · Grape · Pine · Milk · Soda · Tonic · Ginja · Cola / Cranberry × Orange · Pine · Grape · Milk · Soda · Tonic · Jinja · Cola
·Cocktail
· La France × Orange · Pine · Grape · Milk · Soda · Tonic · Ginja · Cola / Kyouhou × Orange · Pine · Grape · Soda · Tonic · Ginja / Apelor × Orange · Pine · Grape · Soda · Tonic · Ginja · Cola
·Cocktail
· Malibu × Orange · Pine · Grape · Milk · Soda · Tonic · Ginja · Cola / Kalua × Milk · Soda · Oolong · Orange · Berry · Ricky · Smith & Wesson / Tiffin × Milk · Oolong · Orange · Lemon Soda · Casisti · Darjeeling Cooler / Cacao × Milk · Orange · Fizz
·Cocktail
· Vodka Tonic / Moscone / Screwdriver / Curacao Cooler / Machehette / Bulldog / Catamaran / Boston Gold / Sex on the Beach / Gin Tonic / Jinbuck / Ginfizz / Jin Ricky / Orange Fizz / Texas Fizz
·Cocktail
· Cuban River / Rum Ricky / Lamb Collins / Lam Cooler / Pineapple Fizz / Blue Hawaii / Mojito / Acapulco Gold / Tequila Sunrise / Matador / Mexican El Diboro
·wine
· Glass wine red · white / sangria red · white / American lemonade / kitty / keel / operator
·Plum wine
· Ripe plum wine
· JIM BEAN
· High Ball / Coke / Ginger / Tonic
· Horn
· High Ball / Coke / Ginger / Tonic
·Soft drink
· Cola / Gingeraire / Oolong tea / Orange juice / Pine juice / Grapefruit juice
·Non-alcoholic
· Shirley Temple / Cinderella / Pussycat / Fruit Punch
2018/10/11 update