Course details
[On birthday] 12 items in total · 2H drinking attached birthday course 3400 yen ⇒ 2900 yen ★ Popular boiling with SNS! Photo cake OK ♪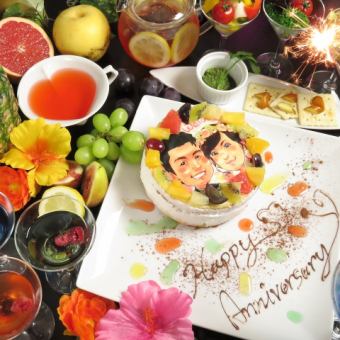 By using a coupon2900 yen
All-you-can-drink service / above is 500 yen off Coupon combination price / 4 people for 1 person Free for 3400 yen
All-you-can-drink available

Only when using course
Reservation deadline

Until 15 o'clock on the desired date of visit
Available days for reservation

Monday - Sunday - Public holidays - Holidays
Anniversary, ♪ on a birthday will be a buffet course.Special courses of choice for hall cake and champagne tower ☆ ※ Photo cake is definitely pleased with the option leading role!
Course menu
Assorted daily appetizers 5 varieties
· Awaji chicken tataki carpaccio
· Raw ham (Proshute)
· Homemade smoked cheese
· Fresh! Seasonal Vegetable Stick & Bagna Cowdery Sauce
· Italian salami
· Boronian sausage
· Pepper Beer Sausage
· Homemade potato salad
· Pakuti smell! Attention Salsa's Bruschetta
· Ethnic style · chicken's honeysuckle
· Freshly boiled egg flavored with curry flavor
· Tuna and fresh celery olive canapé
Our staff selected carefully 5 types from the above.
※ If you have difficulties food, allergies, etc., we will receive it via the request column at the time of reservation or by telephone.
◆ Bull's Canapée
... Canapé with plenty of that bullsan cheese ♪
◆ homemade smoked duck roast
I smoked the duck meat.
Domestically ripened roast beef
... matured beef umami ingredients UP !!
◆ Caesar salad with shakiyaki vegetables
... It's a salad with plenty of fresh vegetables ♪
◆ Homemade creamy sauce and raw ham's raw carbonara
... The compatibility of rich rich ham with carbonara sauce is outstanding!
◆ Herb fragrant Margherita pizza
... Pizza baked in homemade kiln is excellent!
◆ Dolce with message plate
---- Selectable Surprise ---------------
○ Champagne tower is available at + 2200 yen.
○ With + 2500 yen, you can change to fruit plenty of hall cake "Fruit Forest" o "r Special Blueberry Sauce Cheese Cake".
※ Hall cakes are 5 size.For 3 to 5 people.
○ Can change to original photo cake at + 3500 yen.
※ Line ID: Please send an image to goodluck_kobe.
○ + 3800 yen, "Fruit Forest" can be changed to 6 size (with message plate).
※ For 6 to 8 people.
○ + 5000 yen, "Fruit Forest" can be changed to 7 size (with message plate).
(For 8 to 10 people.
※ Surprise support ※
· Projector Utilization OK! Bring in DVD · Specify Movie OK
· You can also change to the original photo cake if you send us a picture.
· Original message decoration on dessert plate
· Production services of candlelight candle fireworks ♪
· Sound · BGM request songs will flow ♪
----------------------------------
All-you-can-drink menu
·beer
· Budweiser / 【Biestel】 Shandyagaf / Campalribia / Pinebia / Grapevia / Orange Via / Red Eye / Bia Coke
·sour
· Lemon / lime / orange / grapefruit / pine
· Shochu
· Potato swallowing / wheat cherry blossoms Rosan
·Cocktail
· Cassis × Orange · Pine · Milk · Soda · Grape · Oolong · Tonic · Ginja · Cola / Fazy Neck / Peach × Tree Fiz · Pine · Soda · Milk · Tonic · Ginja · Cola / Reggae Punch / Midori × Orange · Pine · Grape · Soda · Tonic · Ginja
·Cocktail
· Yogurito × Orange · Pine · Grape · Milk · Soda / Mango × Orange · Pine · Grape · Milk · Soda · Tonic · Ginja · Cola / Guava × Orange · Pine · Grape · Soda · Cork · Ginja · Tonic / Passion × Orange · Pine · Grape · Soda · Tonic · Cola
·Cocktail
· Litchi × Orange · Pine · Grape · Soda · Tonic · Ginja · Cola / Campari × Orange · Pine · Grape · Soda · Tonic · Ginja · Cola / Kaluamoka × Milk · Soda · Oolong · Orange · Berry · Rickey
·Cocktail
· Banana × Orange · Pine · Grape · Milk · Soda · Tonic · Ginja · Cola / Grape × Orange · Grape · Pine · Milk · Soda · Tonic · Ginja · Cola / Cranberry × Orange · Pine · Grape · Milk · Soda · Tonic · Jinja · Cola
·Cocktail
· La France × Orange · Pine · Grape · Milk · Soda · Tonic · Ginja · Cola / Kyouhou × Orange · Pine · Grape · Soda · Tonic · Ginja / Apelor × Orange · Pine · Grape · Soda · Tonic · Ginja · Cola
·Cocktail
· Malibu × Orange · Pine · Grape · Milk · Soda · Tonic · Ginja · Cola / Kalua × Milk · Soda · Oolong · Orange · Berry · Ricky · Smith & Wesson / Tiffin × Milk · Oolong · Orange · Lemon Soda · Casisti · Darjeeling Cooler / Cacao × Milk · Orange · Fizz
·Cocktail
· Vodka Tonic / Moscone / Screwdriver / Curacao Cooler / Machehette / Bulldog / Catamaran / Boston Gold / Sex on the Beach / Gin Tonic / Jinbuck / Ginfizz / Jin Ricky / Orange Fizz / Texas Fizz
·Cocktail
· Cuban River / Rum Ricky / Lamb Collins / Lam Cooler / Pineapple Fizz / Blue Hawaii / Mojito / Acapulco Gold / Tequila Sunrise / Matador / Mexican El Diboro
·wine
· Glass wine red · white / sangria red · white / American lemonade / kitty / keel / operator
·Plum wine
· Ripe plum wine
· JIM BEAN
· High Ball / Coke / Ginger / Tonic
· Horn
· High Ball / Coke / Ginger / Tonic
·Soft drink
· Cola / Gingeraire / Oolong tea / Orange juice / Pine juice / Grapefruit juice
·Non-alcoholic
· Shirley Temple / Cinderella / Pussycat / Fruit Punch
2018/10/11 update